Rosa Parks and The Montgomery Bus Boycott 1955
By Eric
Rosa Parks is the most recognized person who did not give up her seat to a white person. She was arrested by police and put in jail. It's a fact that she was tired and exhausted from work and chose not to give up her seat. There were many people who didn't give up their seat to a white person.
As a result of the arrest of Rosa Parks, The Montgomery Bus Boycott started on December 5th of 1955. This is the day when blacks refused to ride buses because they couldn't sit where they wanted. This was a protest towards whites and the bus systems. The Boycott forced the bus systems to lose money. On November 13, 1956 the Supreme Court demanded that the bus drivers let blacks sit where ever they wanted. Blacks continued to not ride the buses until a mandate or law was written. 38 days later, blacks came together and decided to ride the buses again. December 21, 1956 is the day when blacks returned to the buses. The Bus Boycott lasted 381 days.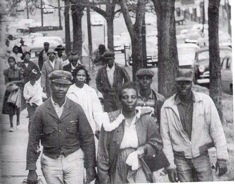 People supporting the bus boycott
After this successful campaign Parks became known as the "Mother of the Civil Rights Movement". Rosa Parks and her family became targets for white racism. In 1957 Parks and her family moved to Detroit, Michigan. Later, she became a special assistant to Democratic Congressmen, John Conyers but she still worked for the NAACP. In 1987, she founded the Rosa and Raymond Parks Institute for Self-Development, which helped young children in need and educated them about Civil Rights. Five years later Parks wrote an autobiography called Rosa Parks: My Story, which was published in 1992. Rosa Parks died on October 24, 2005 from progressive dementia.
Information came from these websites
http://www.watson.org/~lisa/blackhistory/civilrights-55-65/montbus.html
http://www.spartacus.schoolnet.co.uk/USAparksR.htm
Pictures came from
http://www.blackpast.org/?q=aah/montgomery-bus-boycott-1955-56