Rosa Parks Introductory Paragraph
By Adrian
This is a page all about the well-known Civil Rights activist Rosa Parks. This page will tell you about her life and it will also tell how she contributed to helping with the case of Emmett Till.
Rosa Parks Paragraphs + Citation
http://en.wikipedia.org/wiki/Rosa_Parks
Rosa Parks was born Rosa Louise McCauley in Tuskegee, Alabama on February 4, 1913. She suffered poor health and had chronic tonsillitis. When her parents separated, she moved with her mother to Pine Level, just outside Montgomery, Alabama. There she grew up with her grandparents, mother, and younger brother, Sylvester, and began going to African Methodist Episcopal Church. Parks then went on to a school set up by the Alabama State Teachers College for Negroes for secondary education but was forced to drop out to care for her grandmother, and later for her mother, after they became ill.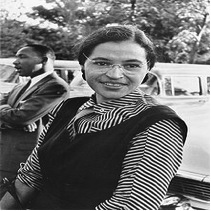 In 1932, Rosa married Raymond Parks, a man from Montgomery, at her mother's house. Raymond was a member of the NAACP at the time collecting money to support the Scottsboro Brothers, a group of black men falsely accused of raping two white women. After her marriage, Rosa took numerous jobs, ranging from domestic work to hospital aide. She then finished her high school studies in 1933, at a time when less than 7% of African-Americans had a high school diploma.
In December 1943, Parks became active in the Civil Rights Movement, joined the NAACP, and was elected volunteer secretary to its president, Edgar Nixon. Of her position, she later said, "I was the only woman there, and they needed a secretary, and I was too timid to say no." Many people were moved by the murder of Emmett Till in August 1955. Parks later said that on November 27, 1955, four days before she refused to give up her seat, she had attended a mass meeting in Montgomery which focused on this case.