Thelma (Pat) Ryan Nixon
Pat Ryan was born on March 16, 1912 in Eley, Nevada. At birth she was named Thelma Catherine Ryan. Her father called her his St. Patrick's Day baby and she later changed her name to Patricia.
After she was born her parents moved to Artesia, California. She grew up working on a farm.
Her mother died when she was 13.
At 17, her father died of silicosis, minors lung.
Pat worked her way through the University of Southern California. She cleaned offices and played bit parts in movies.
When she graduated she took a job teaching typing at Whittier High School.
While taking part in a local theater group she met Richard Nixon in 1938. She thought Nixon was nuts when he said he was going to marry her some day.
She turn him down repeatedly for a first date.
However, on June 21, 1940 they were married in a Quaker service in Riverside, California.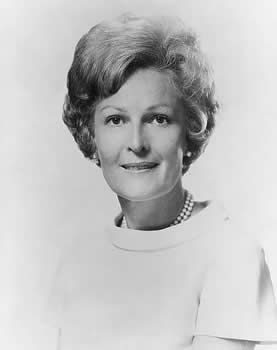 She continued to teach and he practiced law.
Richard Nixon served in the Navy during WWII. She worked as a government economist while he served in the Navy
In 1946, he ran for congress. Their first child, Patricia (Tricia), was born during the campaign on February, 1946.
After they moved to Washington, their second child, Julie was born in 1948.
Nixon ran for vice president under Eisenhower.
However, she enjoyed the travel as the second lady and survived the stoning of their car in Latin America.
She didn't want Nixon to run against Kennedy in 1960.
She was still disappointed when he lost. Later when he decided to run for the Governor of California, she cried.
She seemed happy when he won election in 1968.
Her daughter, Tricia married Edward Cox in the White House rose garden. (She was the first person to be married in an outdoor wedding at the White House.
Her other daughter, Julie, had married Dwight Eisenhower's grandson in 1968.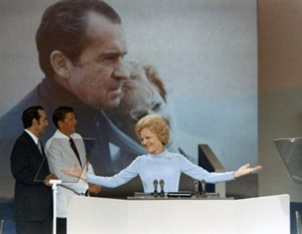 In 1972, she became the first Republican First Lady to address a national political convention.
(Image on right.)
She encouraged women to do volunteer work.
Pat Nixon visited 83 countries while she was the First Lady.
In 1976, after Watergate, she had a stroke that partly paralyzed her.
She and her husband moved to New Jersey to be closer to their grandchildren.
She died of lung cancer on June 11, 1993. She is buried at the Richard Nixon Library in California